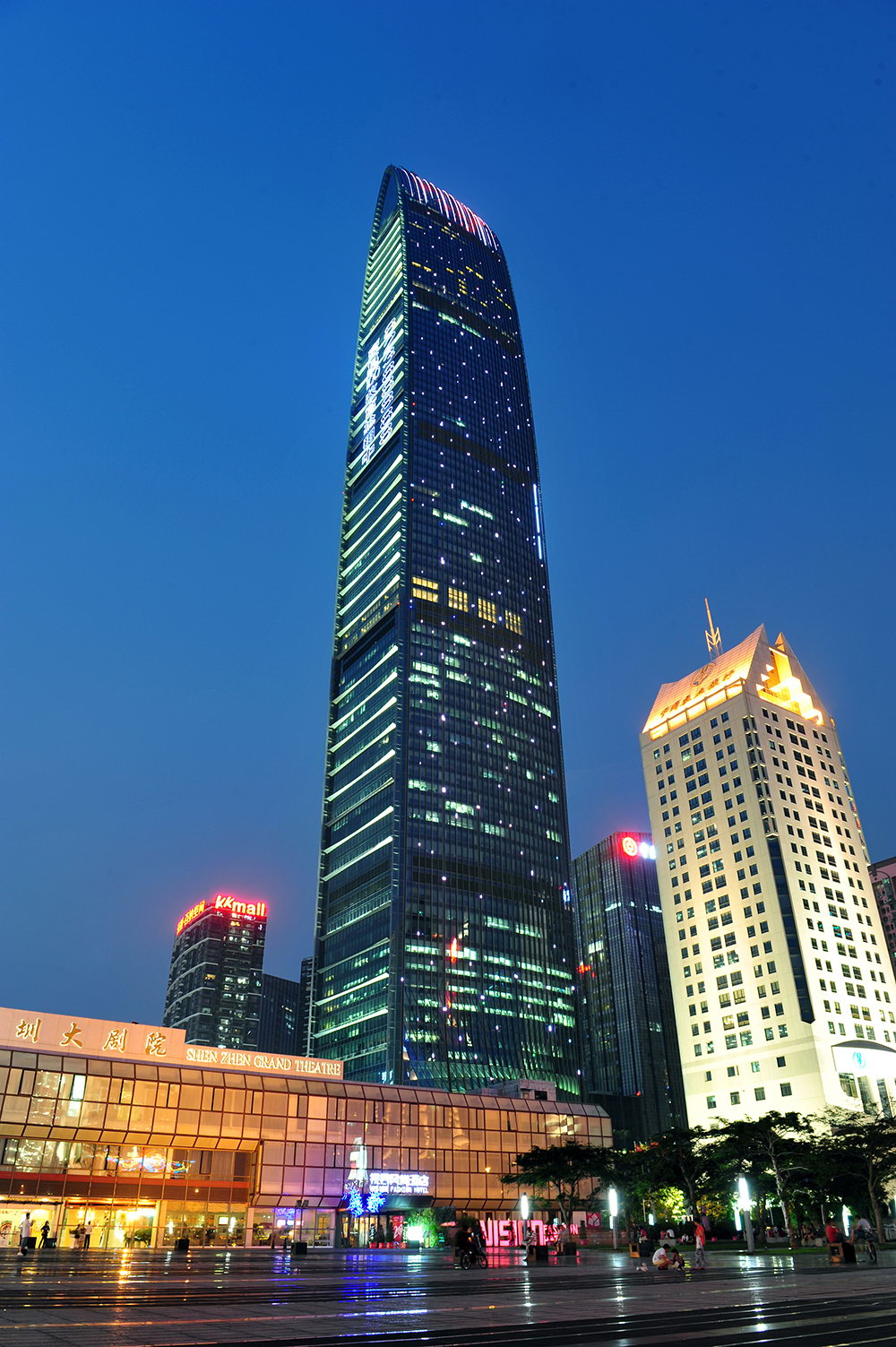 Project: Shenzhen Jingji 100
Location: Luohu District, Shenzhen City
Building Height: 441.28m
Floor Area : 584,642 m2
Area of Curtain Wall: 92,370.99 m2
Curtain Wall Type: unitized curtain wall, stick curtain wall
Architecture Design Institute:
Terry FARRELL & Partners, Hong Kong;
Huasen Architectural & Engineering Consultant Ltd
Curtain Wall Consultant: ARUP FA ADE ENGINEERING
Consultant: Fanny Chan
Concrete Main Contractor:
China Construction Fourth Engineering Bureau Corp. Ltd
Project Supervisor: Shanghai Project Management Co. Ltd
Materials: 6063-T5/6, fluorocarbon coating (3/4 layers) aluminum extrusion from Guangdong Xingfa Aluminium; 8+1.52PVB+8Low-e+12A+12 heat strengthened laminated insulating glass, 8+1.52PVB+8 heat strengthened laminated glass; structural sealant and sealing sealant from USA GE; 3003H24, t=3mm, aluminum panel with fluorocarbon coating (3 layers)from Guangdong Fangzhong
Shenzhen Jingji 100 Finance Center is a large-scale comprehensive building consisted of Class A offices, six-star luxury hotel, large-scale commercial centers, high-class apartments and residences. The building locates at Caiwuwei in Luohu District of Shenzhen City--the prosperous finance and culture center, and adjacent to the People's Bank of China, Shenzhen Theater, and Municipal Public Security Bureau. It is the highest building in South China, with the total floor area of 580,000m2, total building height of 441.28m, and 98 floors on the ground.
The total length of south and north elevations is 61m, and the total width of east and west elevation is 43m. The south and north elevations are double curved surfaces representing taper shape upwards, and join together at the top of the tower. The joint is smoothly transited with arc surface, and vertical moldings are installed on the elevations. The east and west elevations are vertical, which are set with triangular variable cross section horizontal decorations and sunshade panels. Protrudent fins are installed at the intersections of the south and north elevations, as well as the intersections of the east and west elevations. The fins represent taper shape upwards along with the south and north elevations and join together at the top. The external surface of this building is mainly covered with glass curtain wall, meanwhile, some decorative, functional and modern decorations and sunshade lines are adopted in horizontal and vertical directions, which make the building to be rich of characteristics of the epoch and eminently show its tallness, straightness and majesty.