Solar energy is one of the most important clean energy in the world now. The comprehensive utilization of solar energy is a key way of realizing the building energy-saving and environment protection. Two main utilizations of solar energy by curtain wall are photovoltaic curtain wall system and solar heat collection system.
Photovoltaic Curtain Wall
Curtain wall integrated with photo voltaic generating system is called "photovoltaic curtain wall", i.e. installing the solar PV components on the frame of the curtain wall or skylight, which will generate power by solar energy and thus realize the integration of photovoltaic and the building. The main characteristics of photovoltaic curtain wall are as follows:
●Compared with other ways of generating power (e.g. by burning mineral materials), on one hand, the photovoltaic curtain wall can reduce the consumption of energy; on the other hand, such curtain wall system can reduce the temperature rise of wall surface and roofing effectively, which will reduce the heat-exchange between outdoor and indoor, reduce the load on the AC as well as the energy consumption.
●Utilizing solar energy as the clean energy effectively. No need for fuel, no exhaust gas, no carbon output and no pollution.
●The power generated can be connected to the grid and relive the pressure of power supplying.
●A better sun-shading can be realized by utilizing the photovoltaic system on the skylight glass.
●Various photovoltaic components can be laid between glass and create various, colorful and unique aesthetic effect.
Photovoltaic curtain wall are mainly compose of the following components (refer to figure below):
●Curtain wall frames
●PV glass
●Junction box
●PV cable and connector
●Invertor
●Monitoring facilities

---
Solar Heating Curtain Wall System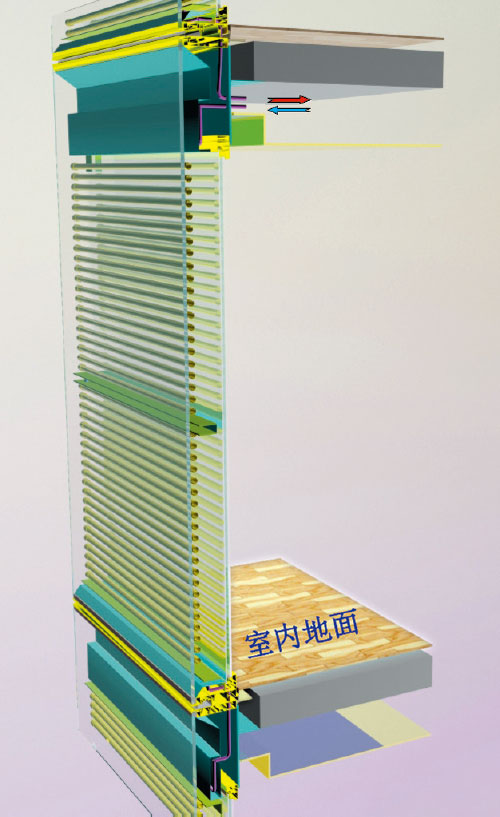 This is another important way of utilizing solar energy. Solar energy heating device is installed within the curtain wall, skylight or metal roofing and becomes integrated with the enclosed system. In this case, the solar collecting device doesn,t only act as a functional component but also a decorative component. The solar energy is transferred into heat and used for supplying hot water to the whole building. Or the heat can be transferred into other forms of energy, which will be supplied to building for indoor use.