Frame supporting curtain wall refers to facade being supported by metal frame (aluminum, steel etc.), which are the most complicated and applied type. They can be classified as double-skin, unitized, semi-unitized, stick curtain wall etc.
Unitized Curtain Wall System
The unitized curtain wall means that the unitized panel is assembled by various components of curtain wall (including sheet, supporting frame, etc.) in factory, and delivered to site for the purpose of integral hanging installation, and fixed on the main structure by embedded connective system.Compared with the traditional structural member type curtain wall, the unitized curtain wall has a lot of outstanding advantages:
●The integral hanging installation is adopted for unitized panel, to achieve fast installation and short site construction period.
●The fact that it can be constructed synchronously with the main structure and that vertical cross work is allowed, makes for shortening the construction period of the building.
●As the unitized panel is of high bunch production and, its assembly being completed in factory, high assembly precision, the quality is easy to be controlled.
●Inlaying method is used for connection among unitized panels. Meanwhile, it has a powerful absorbing capacity for temperature deformation, displacement between stories, seismic deformation, etc.
●Inlaying method is used for connection among unitized panels, which ensures a high degree of accuracy for installation and positioning as well as high degree of facade flatness.
●The structural sealing method is adopted among unitized panels, and the traditional jointing sealing sealant has already been replaced by sealing sealant strip, which ensures not only sealing property but also an effective decrease on pollution level on the surface of curtain wall, nice appearance and neatness, with improvement of decorative effect.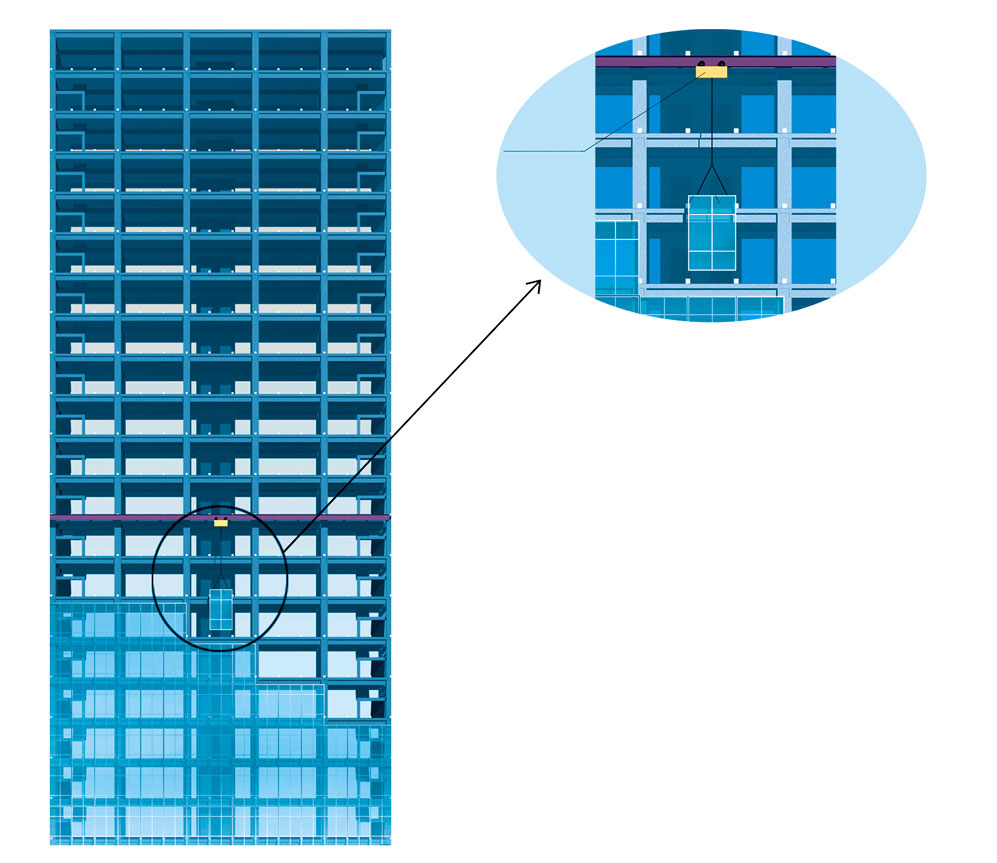 After years of research and engineering practice by Yuanda,s designers, researchers and developers, the unitized curtain wall system, with standardization, systematization, independent intellectual property rights has been established. For this system, in addition to the advantages that the regular unitized curtain wall has, in aspects of system performance, sealing and water resistance, fabrication and installation workmanship, functions of use and other aspects, it has unique features.
●For the horizontal gliding unitized curtain wall system, it has a superior capacity in deflection absorption, and is especially more suitable for high-rise buildings and super high-rise buildings.
●For the structural system, the multi-layers continuous integrated sealing method is applied at inlaying area among unitized panels, which forms many air cavities. Meanwhile, the use of"Rain Screen Principle"as well as the step-by-step pressure reduction is to achieve the goal of sealing and water resistance. Because of a concealed drainage system built inside, a limited number of rain water infiltrated into the curtain wall will be released outside the system in layered and cross-bedded way. The sealing property of system is reliable, which can prevent the rain water leakage and air infiltration.
●The embedded connective system can realize full free adjustment and tolerance absorption in three dimensions, and is convenient for installation and adjustment, which can effectively ensure accuracy and quality of installation, and is suitable for various kinds of building main structure.
●The advanced processing technology and assembly technology, assisted by numerical control processing equipment made by Germany with high degree of accuracy, ensure that the quality of product remains stable, improved continuously, and can accomplish the fabrication and assembly for the curtain wall with unique structures, such as:
◇Triangle Panel Unitized Curtain Wall ◇Trapezium/Parallelogram Panel Unitized Curtain Wall
◇Horizontal Single Direction Arc Unitized Curtain Wall ◇Vertical Single Direction Arc Unitized Curtain Wall
◇Bidirectional Arc (Hyperboloid) Unitized Curtain Wall ◇Deformed Elevation Warp Panel Unitized Curtain Wall and etc.
●Abundant construction experience as well as reasonable and advanced construction installation workmanship, assisted by domestically developed construction equipment, machines and tools, ensures the accuracy degree, quality and efficiency for system installation and can meet the requirements for installation works of difficult, deformed and super high-rise curtain wall.
●Excellent thermal performance and perfect energy-saving effect.
●Various sorts of finishing materials, such as glass, metallic sheet material, stone and artificial sheet material, can be adopted flexibly. According to the actual circumstances, the unitized glass curtain wall can be fabricated into a variety of frame appearances, such as exposed-frame system, hidden-frame system, semi-hidden frame system and exposed concealed frame mixed system. If necessary, vertical decorative fin (glass, aluminum and terra cotta panel), horizontal decorative panel and sun-shading panel (support frame), etc. can be fixed.
●Reasonable selection and usage of material, high comprehensive cost performance and reasonable price.