Point fixing frameless glass curtain wall is called point fixing glass curtain wall for short. The glass is supported by metal supporting devices at its corner and perimeter and fixed on curtain wall supporting structure connected through these supported devices. Therefore the loading on glass transfers to curtain wall supporting structure by supporting devices at joints. The panel glass may apply single glass, insulated glass, laminated glass and so on, which go through toughening treatment. Point fixing glass curtain wall can be divided into two styles, one is hole point fixing and the other is clamp point fixing according to the forms of glass supporting devices.
●Hole point fixing style
----open a hole in glass in advance, in which set connected bolt to fix glass, with types of floating head, sunk head, back hitched one.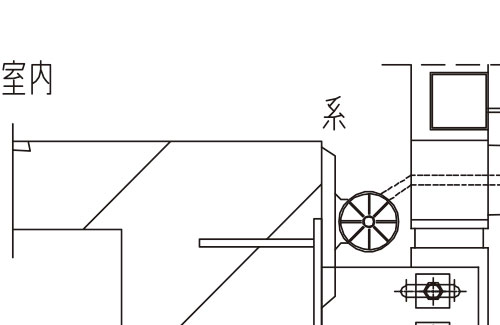 ◇Raised head style---- Bolt head mostly is round and projected on glass surface. Rubber washers or other spacers set between bolts and glass to avoid hard contact at fix points and stress concentration, meanwhile ensure safe sealing at joints.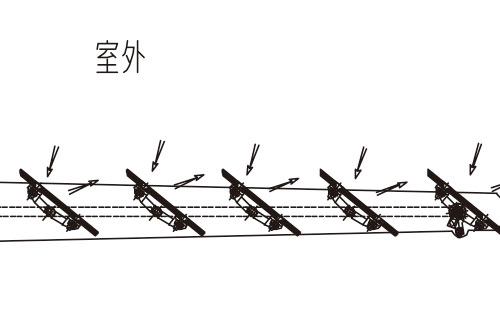 ◇Sunk head style----The surface of bolts after fixed is leveled with the surface of glass and creates more perfect visual performance.
Bolt head of connected bolts is cone shape, open a cone-shape hole in glass; add soft spacer between bolts and glass to ensure soft contact at joints and sealing.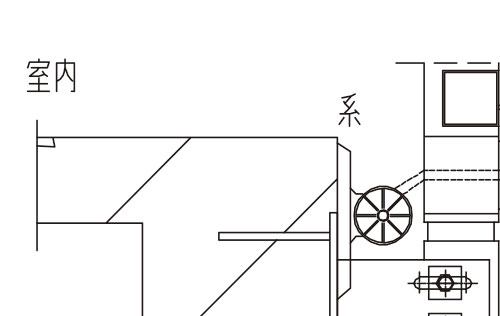 ◇Threaded-cone bolt style----Apply special equipment to open a half through hole at back of glass with enlarged diameter of the bottom hole. Place special back hitch bolts to fix glass after set washers. Glass hole is small and has high precision, and the hole is not through the glass with beautiful out looking. Do not to worry about the sealing at hole-opening.


◇Clamp fixing style
----Do not need to open a hole in glass. Use metal plate clamp at corners and perimeter as supporting devices to fix glass on the supporting structure of Curtain wall. The clamp plate can be made into rhombus, square, rectangle, circle, oval, ring, butterfly and so on.
---
Steel structure, glass rib, metal pull bar, metal pull cable, cable and bar mixed, self-balanced system, single cable net and single direction cable system, etc. could be applied as the supporting structure of point fixing glass curtain wall.
Steel Structure Point Fixing Glass Curtain Wall
Steel structure supporting curtain wall can apply steel structure bars, plane steel truss, angle steel truss and so on. The main technical characteristics are as follows:
●Openness effect, natural and harmonious between inside space and outside environment
●Delicate members, beautiful structure; perfectly combined delicate metal structure and glass decorative art.
●Based on actual need for construction, choose steel structure system and analyze the structure by special design software. The structure is reasonable, economical and suitable.
●Adopt advanced welding techniques to ensure welding quality and the structural safety.
●Between circular steel pipes adopt intersection line automatic form-finding cutting, the combined part appear line-fluency and the delicate details.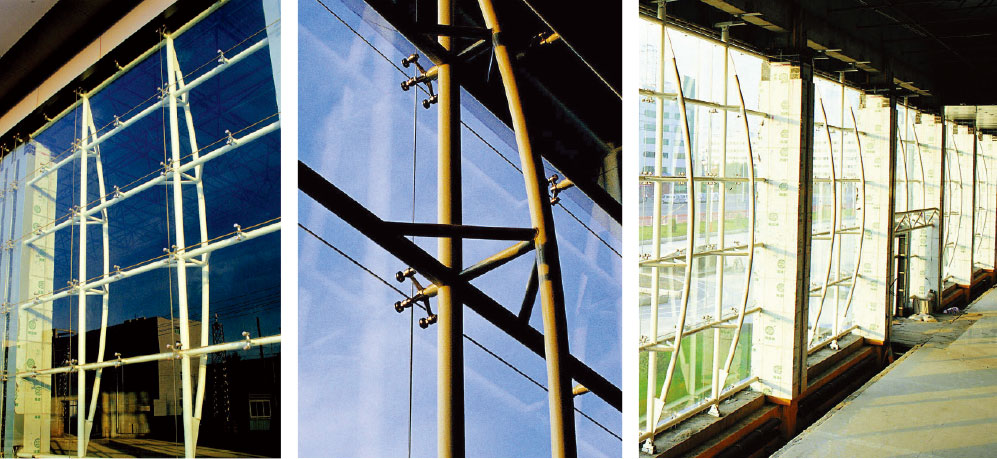 Depending on the different architectural characteristics, the skilful and beautiful spatial art steel structure can be pertinently designed as the supporting system for glass curtain wall. According to the conception of architectural design spatial layout and the basic condition of main structure, the simple and beautiful steel structure is tailor-made. Adopt advanced professional design software for structural stress analysis and establish overall structural three-dimensional model to achieve the shape and position design for complex curved surface, and under the premise of ensuring structural safety, to achieve desired perfect effect between inside and outside of the building. Some representative of the spatial art steel structural supporting system in practical application are as follows:
Shanghai Oriental Art Center
●The curved steel shell net system composed of vertical curved steel pipe and horizontal straight steel pipe to serve as the supporting structural system of double-curved curtain wall;
●Setting tie-rod between Steel shell net system and the main structure core tube, in order to maintain system stability;
●The section of main supporting steel beam(vertical) is oval, and adopt special stretch bending process to achieve vertical arc curved shape;
●Horizontal circular-section steel pipe and main vertical structural beam adopt embedded spherical universal joint between nodes connection to adapt multi- angle change and structure deformation;
●The precise position and installation of steel structure ensure the double curved surface shape fitted out by flat glass is sleek and smooth;
●Novel and unique steel structural system, whether its overall layout or details, whether its indoors close-view vision or outdoors distant view, all seem a strong visual impact and architectural aesthetic enjoyment.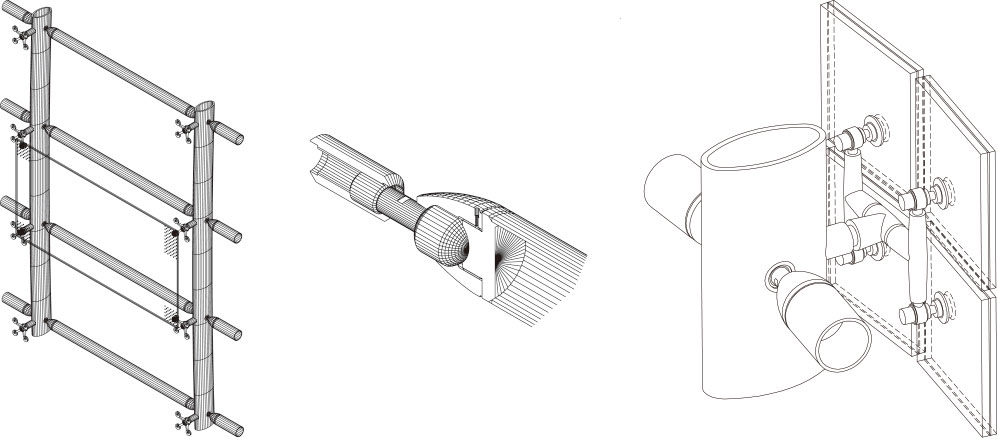 Shanghai Dongchang Fortune Plaza
●Horizontal steel pipe and its support rod, stainless steel claw arm and vertical load-bearing stainless steel cables etc are steadily combined, constituting a spatial steel structural system to support the point-fixing glass curtain wall.
●The overall curtain wall system has high permeability, laconic and dexterous structure. Each stainless steel claw arm could simultaneously dominate the upper and lower three or four pieces of glasses. Intermittent arranged between the upper and lower claw arm, and pulled by the vertical load-bearing cable. As there is no rear support structure against the indoor main visual area, the transparent feeling of the main visual area is even stronger.
●Bow-shaped claw arm is used as a part of structural support system for the main component force of the glass, breaking the traditional single-function of the steel structural, with its unique shape and tiny scale, creating an extraordinary structural aesthetic feeling.
●Stainless steel claw arm is processed by stainless steel casting and machining and assembled by welding, sophisticated manufacture, high precision and excellent quality to ensure the installation quality and achieve a perfect architectural effect.

---
Tensioned Cable / Rod Point Fixing Glass Curtain Wall
Adopt tensioned cable / rod system as supporting structure of the point-fixing glass curtain wall. The entire structural system is made of cable / rod, stainless steel rod, glass connecting claw and so on. According to the actual situation of the main structure, horizontal and vertical direction could be selected as the main forced direction, tensioned cable / rod on the main forced direction as the bidirectional forced system and could adopt two kinds of form, fish-bellied or cross type.
According to various elements of the system, it could be divided into tensioned cable system, tensioned cable / rod hybrid system and so on, and could be flexible composite applications. tensioned cable / rod system as space tensioned structural support system, the main technical characteristics are as follows.
●Transparent sense of the whole curtain wall is rather strong, and the supporting system is simple and generous.
●The special metallic texture of stainless steel cables, rods and other elements highlights the unique structural aesthetic feeling with a strong decorative effect;
●System technology and manufacturing processes are well-developed and reliable, so the accuracy and quality etc are easily to be guaranteed;
●Systems are constituted relatively simple and reasonable, economical and practical;
●Space tensioned structural system needs certain embed dimension, taking up some interior space;
●In the structural system, all the pre-tension forces are imposed on the main structure at the boundary of curtail wall, and thus a corresponding increase in the bearing capacity of the main structure is required.

---
Self-balanced Point Fixing Glass Curtain Wall
It refers to the point fixing glass curtain wall using self-balance structure as the support. The system mainly consists of steel column, horizontal rod, pre-stressed tension cable, loading sustaining cable/rod, and other hardwares such as glass supporting devices. This system is a new pre-stressed structure system with advanced technique, and suitable for large span structure. The system boasts the following features:
●Simple structure, high transparency and pleasant external and internal visual effect.
●The pre-tension realizes self-balance in the supporting structure system itself instead of imposing on the main structure, so there is no impact to the main structure.
●Highly factorized fabrication and relatively simple and convenient site work.
●For building space of large span, this system will take certain depth of the internal space.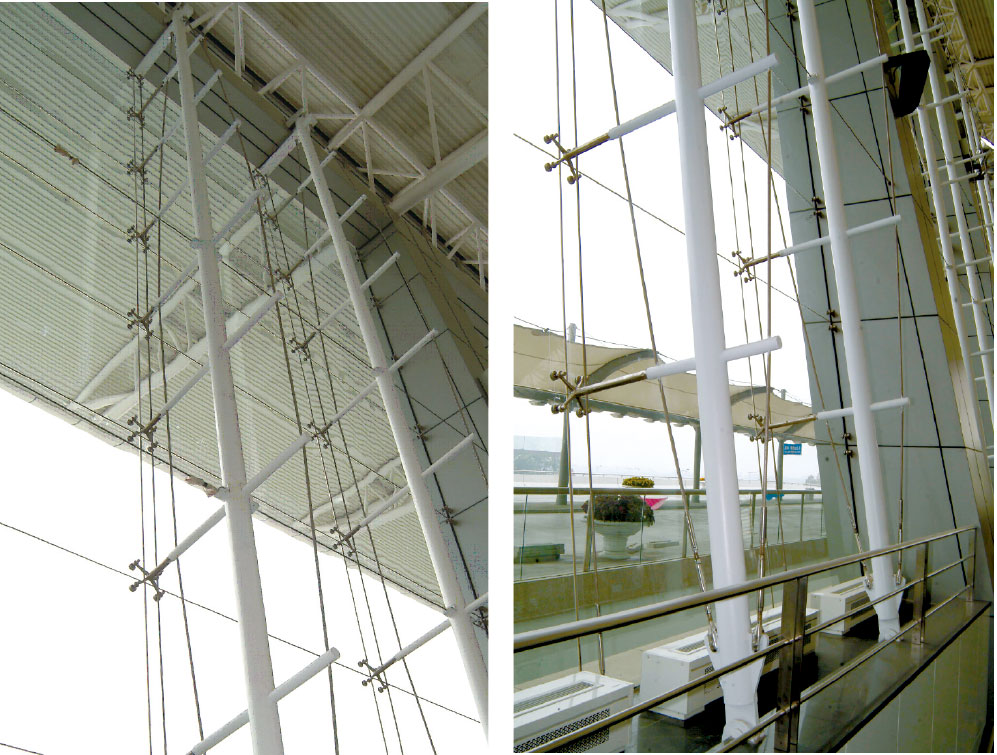 ---
Cable Net Glass Curtain Wall
It refers to the point fixing glass curtain wall using single cable net structure formed by horizontal and vertical tensioned cable as the supporting system. The single cable net fixing system is pre-stressed, non-geometrically linear and flexible structure. By loading certain pre-stress on the double direction steel cables, the cable net can resist the external loading. The system consists of horizontal and vertical steel cable, cable clamp, and glass supporting device. Yuanda has developed a perfect and sophisticated single cable net point fixing curtain wall system by our research and practical project experience. For this system Yuanda has gained lots of construction experience and unique technique. The system boasts the following main technique features:
●The most transparent glass curtain wall suitable for large span. No matter where you are standing, indoor or outdoor, you will be overwhelmed by the grand construction and its visual impact.
●Plane structure takes no depth room or indoor space. Well-knit structure allows simple structure.
●By utilizing the advanced analysis software to build the space model and conducting simulation analysis to the structure to determine the structure style and optimize the design.
●Through the design and practical construction of super large single cable net curtain wall, Yuanda has formed a sophisticated and advanced construction workmanship to ensure the quality, efficiency and precision of the construction.
●By maneuvering the advanced pre-stress controlling system, the pre-stress value changing can be well controlled and the system can be always kept in a stable working condition.
。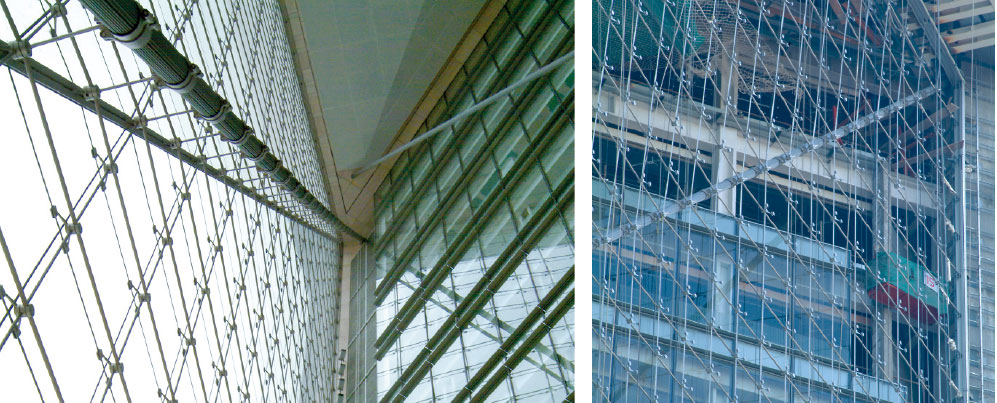 ---
Mone Direction Tensioned Cable Glass Curtain Wall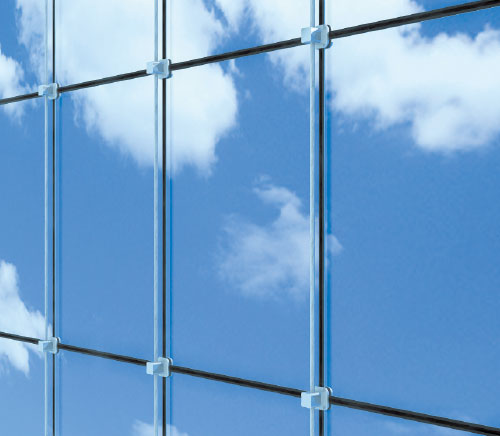 The further evolution of single cable net glass curtain wall is the curtain wall only having vertical cable structure, namely, single net, single direction point fixing glass curtain wall. Besides the features of single cable net point fixing glass curtain wall, this type of curtain wall also boasts its unique features as follows:
●Without horizontal cable, the structure is much simpler which can give a neat and vivid construction effect.
●Only the horizontal beam sustains the cable pre-stress and there is no horizontal pre-stress transferring to column, which means this system has little effect to the main structure.
---
Point Fixing Glass Curtain Wall with Glass Fin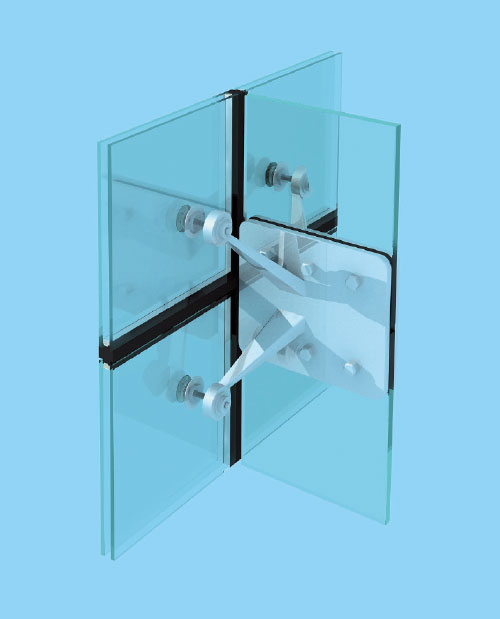 Behind the facial glass vertical or horizontal glass fin are set. The loading on the cladding can be passed to the glass fin through glass supporting device. The point fixing glass curtain wall with glass fin of Yuanda boasts the following features:
●The whole system is composed of glass. The high transparency makes a crystal and sparkle system, which achieves excellent decoration effect.
●The spiders and other supporting devices used to support the glass is clamped and fixed to the glass fin by steel clamp. The structure is simple and the load path is clear.
●Various glass configurations can be chosen such as single fully tempered glass, insulated glass, and laminated glass, etc.
●The curtain wall height is limited when used for large span area and the glass fin is continuous.