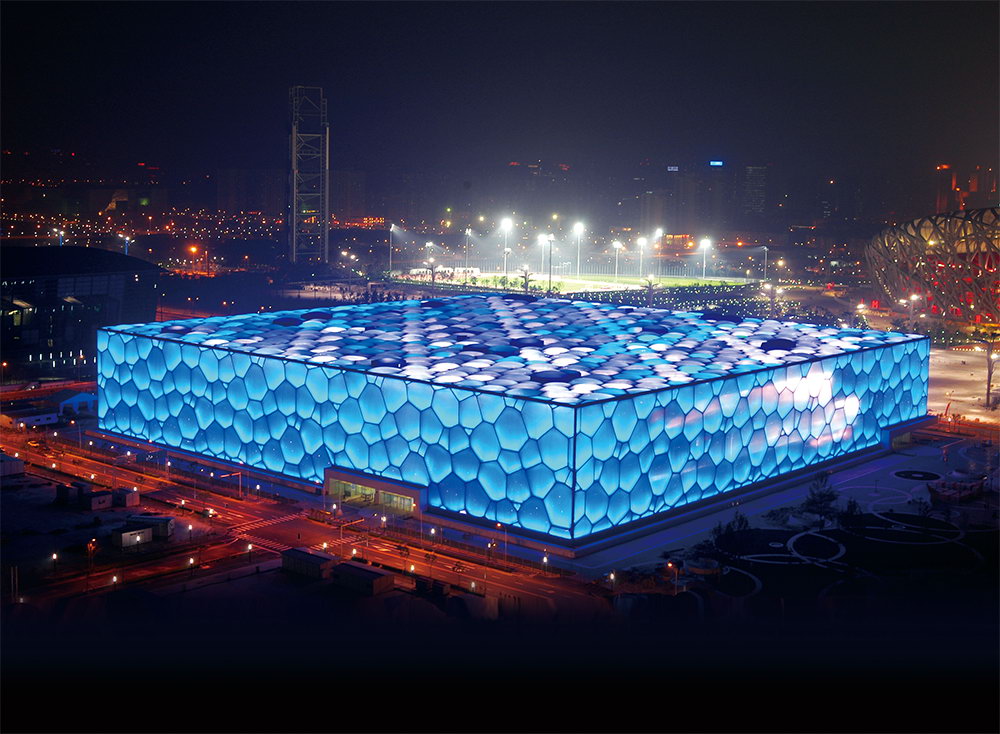 Project: National Swimming Center
Location: Olympic Village, Beijing City
Building Height: 31m (5 floors)
Floor Area: 87,283m2
Area of Curtain Wall: 100,000m2
Curtain Wall Type: air-supported membrane structure
Architecture Design Institute: China Construction Design International; PTW Architects, Australia
Concrete Main Contractor: China Construction First Division Group Construction & Development Co., Ltd.
Project Supervisor: Beijing Pake International Engineering Consulting Co., Ltd.
Materials: ETFE membranes made in Japan
The National Swimming Center, which is also called "Water Cube", is one of the symbolic building for 2008 Beijing Olympic Games-the 29th Games. The individual and distinctive design concept made the Water Cube the new shining point of the historical cultural city.
The National Swimming Center is located at the Beijing Olympic Park. Its length and width are both 177m, with a height of 31m, covering a construction area of 62,950m2, and building area of 87,283m2. The main structure adopts tensile space polyhedron steel frame structure, the whole structure possesses about 22,000 steel bar component and 22,000 joint points. It can accommodate 17,000 spectator seats, in which the permanent spectator seats are 6,000 and 11,000 more seats will be provisionally added in the course of Olympic Games. During the 2008 Olympic Games period, Water Cube will serve as the swimming, diving, water ballet, polo etc. competition field. After the Games it would be converted into a comprehensive leisure center with international advanced level, including swimming, sports, body building etc.
The project is co-designed by China State Construction and Engineering Corporation, China Construction Design International, PTW Architects and ARUP from Australia, which shows perfect combination the Chinese traditional culture and modern technology. The profile adopts Chinese traditional basic shape -"square", simple and clear cube, showing that Chinese culture takes ethic as basis social theory.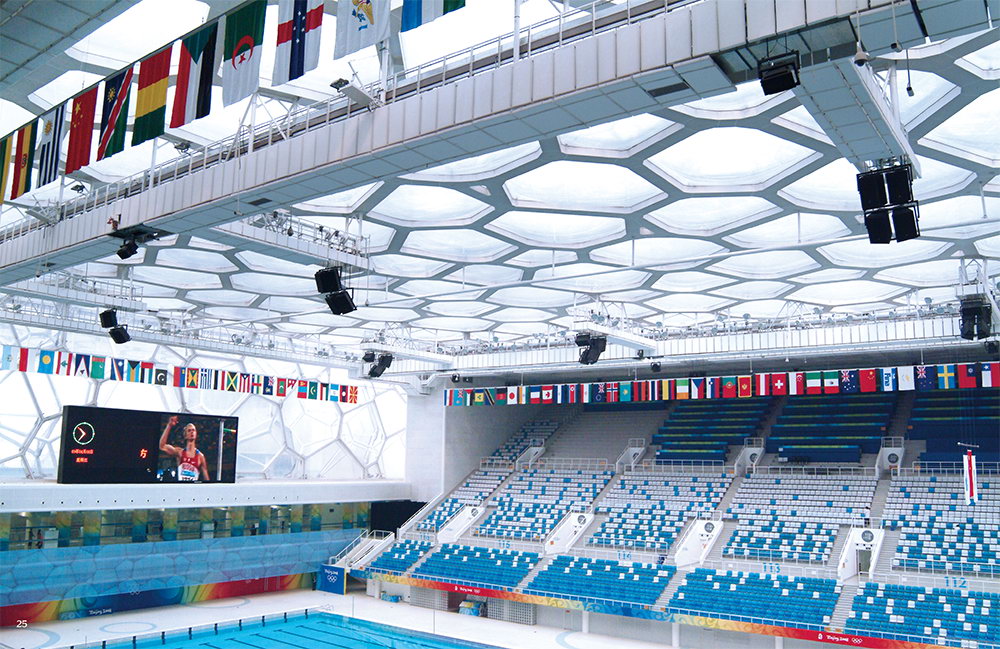 Water Cube fully expresses the spirit of water. The light blue ETFE is inflated into different bubble, arranged in the elevation and roof. In the far view and sunlight, it is just like shining"water drops"on the surface, bringing activeness, fresh and power. In the near sight, under the white cloud and blue sky, it is a beautiful and pretty painting. At night, the light on the wall and the river show the effect of waving water and the quiet atmosphere.
The"Water Cube"and the National Stadium"Bird,s Nest"are respectively arrayed at the two sides of northern part of middle axis of Beijing, jointly forming the integral historic and cultural figure of the city. The National Stadium is active and surprising; while"Water Cube"is light, fresh and quiet.
The perfect realization of"Water Cube"design concept thanks to the reasonable adoption of external wall and roofing material - ETFE membrane material. Meanwhile, ETFE air-supported membrane structure system satisfies the demand of building physical property and function.